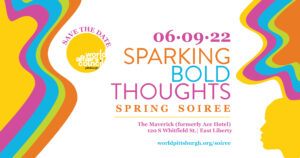 Join the World Affairs Council of Pittsburgh as we are "Sparking Bold Thoughts" at our Spring Soiree!
We invite you to join us in bringing our mission to life as Pittsburghers of diverse backgrounds and experiences convene and connect at The Maverick (formerly Ace Hotel) on Thursday, June 9 for an evening that centers global education.
Tickets and sponsorships are available and we encourage you to reserve your spot early as space is limited and we expect to sell out!
This event celebrates our "90+1" anniversary with an evening of global connectedness, culture, and community. We will recognize the recipients of the inaugural Illuminate Awards and feature performances, guest speakers, a fusion-inspired menu, and more.
Our keynote speaker will be Saleem Ghubril, executive director of The Pittsburgh Promise, and our Emcee will be journalist Natalie Bencivenga. Featured performers will include Nandanik Dance Troupe, Hugo Cruz and Caminos, Balafon West African Dance Ensemble, Jacquea Mae, and DJ Sarah Huny Young.
Funds raised from this event will support our work that reaches more than 1,500 community members and more than 2,500 students in the Southwestern Pennsylvania region and beyond each year through relevant, engaging, globally-focused programs, events, and experiences.
If you aren't able to attend this year, you can still help us achieve our goal with a donation to the Council! To make a contribution visit the registration page, click "register," and choose the donation option. Thank you!
Event Details
Thursday, June 9, 2022  | 7:00PM – 11:00PM
The Maverick (Formerly Ace Hotel)
120 South Whitfield Street
Pittsburgh, PA 15206
Get Involved
Individual tickets are available for $150 per person and a limited number of V.I.P. tickets are also available for $250 per person. V.I.P. tickets will include an exclusive reception from 6:00PM–7:00PM, an elevated menu, free valet parking, and a special performance by popstar Mai Koi.
Sponsorships start at $5,000 and include both event tickets and additional hospitality and recognition benefits. We welcome local businesses and individuals alike to consider joining us as sponsors!
At the Soiree we will honor four exceptional individuals in the Pittsburgh region who go above and beyond their daily responsibilities to advance global engagement and model global connectedness in their school, industry, or community. Please help us choose these awardees by nominating leaders from your community!
Thank You to Our Spring Soiree Host Committee:
Kevin Acklin
Alexis and Will Allen
Brian Burley
Natalie Bencivenga
Bill Generett
Patti and Saleem Ghubril
Dawne and David Hickton
Steve Lackey
Sue and Scott Lammie
Brian Magee
Lindsay Powell
janera solomon
Christine and Fred Theiman