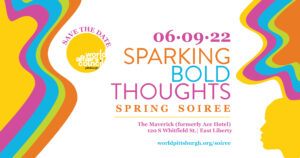 Thank you for joining the World Affairs Council of Pittsburgh as we were "Sparking Bold Thoughts" at our Spring Soiree!
Thank you for joining us in bringing our mission to life as Pittsburghers of diverse backgrounds and experiences convened and connected at The Maverick (formerly Ace Hotel) on Thursday, June 9 for an evening that centered global education.
You can find photos from the event in this Facebook album and watch this video that premiered at the event telling the Council story.
This event celebrated our "90+1" anniversary with an evening of global connectedness, culture, and community. We recognized the recipients of the inaugural Illuminate Awards and featured performances, guest speakers, a fusion-inspired menu, and more.
Our keynote speaker was Saleem Ghubril, executive director of The Pittsburgh Promise, and our Emcee was journalist Natalie Bencivenga. Featured performers included Nandanik Dance Troupe, Hugo Cruz and Caminos, Balafon West African Dance Ensemble, Jacquea Mae, and DJ Sarah Huny Young.
Funds raised from this event will support our work that reaches more than 1,500 community members and more than 2,500 students in the Southwestern Pennsylvania region and beyond each year through relevant, engaging, globally-focused programs, events, and experiences.
Thank You to Our Spring Soiree Host Committee:
Kevin Acklin
Alexis and Will Allen
Brian Burley
Natalie Bencivenga
Bill Generett
Patti and Saleem Ghubril
Dawne and David Hickton
Steve Lackey
Sue and Scott Lammie
Brian Magee
Lindsay Powell
janera solomon
Christine and Fred Theiman