Save the date for an interactive discussion on the war in Ukraine!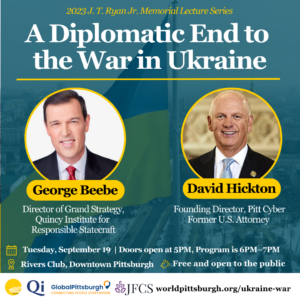 Join us on Tuesday, September 19 at the Rivers Club, Downtown Pittsburgh, PA for a free, interactive discussion featuring George Beebe, Director of Grand Strategy at the Quincy Institute for Responsible Statecraft, and David Hickton, Founding Director of Pitt Cyber and former U.S. Attorney.
These experts will come together in a friendly debate to grapple with possible diplomatic solutions to the war in Ukraine and what role the U.S. should play in the conflict.
George Beebe has over two decades of experience as an intelligence analyst, diplomat, and policy advisor, including as director of the CIA's Russia analysis, director of the CIA's Open Source Center, and as a staff advisor on Russia matters to Vice President Cheney.
Like many Americans, David Hickton is a descendant of immigrants and has spoken passionately about the importance of immigration as a matter of human rights. He will also draw on his expertise in cybercrime and security to lend a unique perspective on the role of Russian cyberattacks in the conflict. Recently, David and his family supported the Slovo. Theater Group project.
Arrive at 5PM to connect with each other over complimentary drinks and hors d'oeuvres, and ground yourself in the human experience of the conflict through a curated exhibit by Pittsburgh photojournalist Maranie R. Staab. The program will run from 6-7PM.
We are proud to partner with Jewish Family and Community Services and GlobalPittsburgh on this event!
This program is part of the 2023 J. T. Ryan Jr. Memorial Lecture Series, presented by the John T. Ryan Memorial Fund.
This event is free and open to the public, thanks to donor support! If you would like to support accessible programs like this, please consider making a donation when you reserve your free ticket.