Join the World Affairs Council of Pittsburgh for an interactive conversation with Ambassador Eric Rubin on the state of diplomacy around the world!
Ambassador Rubin is the current President of the American Foreign Service Association based in Washington, DC. In this interactive conversation, he will discuss diplomacy as it relates to climate action, global migration, and women and girls. He will also bring his expertise on Russia and Ukraine to shed light on the role of diplomacy in the conflict.
We will also welcome Cuban composer, drummer, producer, percussionist, and teacher Hugo Cruz to kick off the event with Cuban and world drumming.
The program will be held on Tuesday, February 7 in Lawrence Hall 200 at Point Park University.
Doors open at 5PM, Hugo Cruz will perform at 5:15PM, and the program will be 6PM-7PM.
IMPORTANT NOTE: To get to Lawrence Hall, you must first enter through Academic Hall (Thayer Hall), Point Park University, 201 Wood St. Pittsburgh, PA 15222. You can view directions on Google Maps and orient yourself with this campus map. Once you enter Academic Hall, you will sign in at the security desk and be directed up a set of stairs to the second floor. Lawrence Hall 200 will be down the hall to your right. There will be directional signs and staff members placed along the way to guide you to the room.
We are proud to partner with GlobalPittsburgh, Luminari, Pittsburgh Global Shapers, and Point Park University on this event.
This event is free and open to the public, thanks to donor support! If you would like to support accessible programs like this, please consider making a donation when you reserve your free ticket.
Ambassador Eric Rubin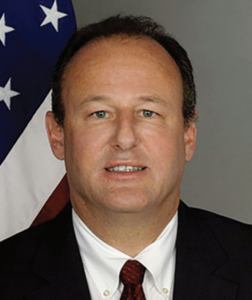 Ambassador Eric Rubin was elected to serve as the President of the American Foreign Service Association (AFSA) after his recent posting as U.S. Ambassador to Bulgaria
(2016-2019).
Joining the Foreign Service in 1985 after graduating from Yale, he started as a political and human rights officer in Honduras (1985-1988). In 1989 he was assigned to the State Department's Operations Center. From 1989 to 1991 he worked in the Office of Soviet Union Affairs where he monitored and reported on the collapse of the Soviet Union. Next, he served as the security affairs officer for Central and Eastern Europe.
He left Washington in 1994 for Kiev, Ukraine as Deputy Political Counselor. While there he was a recipient of AFSA's William R. Rivkin Award for Constructive Dissent by Mid-Level Officers for his work on the Bosnia crisis.
In 1996 he returned to Washington to work for the Assistant Secretary of State for European and Canadian Affairs. From 1997-1998, he served as an Assistant White House Press Secretary for Foreign Affairs and in 1998 he was the special assistant to Ambassador Thomas Pickering—then the Under Secretary of State for Political Affairs. For 1999-2000 Ambassador Rubin was a Rusk Fellow at the Institute for the Study of Diplomacy at Georgetown University where he enjoyed teaching about diplomacy.
In 2001 he was posted to Chiang Mai, Thailand as Consul General. In 2004 he returned to Washington as the director of the Office of Policy Planning and Coordination in the Bureau of International Narcotics and Law Enforcement Affairs. In 2006 he served as the executive assistant to R. Nicholas Burns—the Under Secretary of State for Political Affairs at the time.
From 2008 to 2011 he served as the Deputy Chief of Mission in Moscow. And from 2011 to 2015 he served as a deputy assistant secretary of state in the Bureau of European and Eurasian Affairs.
Ambassador Rubin is married with two children.